Eating vegetarian in Paris doesn't have to be boring. Drool over these top restaurant recommendations.
When you think French cooking, naturally meat and dairy products come to mind. Boeuf bourguignon, escargot, maigrit du canard… BUTTER…. yep, the list goes on and on.
BUT! That does not mean there aren't many amazing vegetarian and vegan options making their own in Paris.
I've tested and tried many option throughout the city, so I'm in the unique position to tell you what's good so you don't waste your time. Here's the round up of my absolute favorites vegetarian restaurants in Paris.
.
1. Café Pinson
The decor inside this place is what got me to go in the first time I visited: it's bright white walls topped off with exposed brick and comfy pillows lining the bench seating?! One mention of the word 'cozy' and I'm sold.
Plus, not only is this trendy Marais restaurant vegetarian, it's also gluten-free and dairy-free.
The menu is constantly changing which is a sign that they only use the freshest (and typically, local!) ingredients possible, another selling point for me.
YOU MUST TRY
The desserts. The chefs swap out refined sugar for all natural agave, and replace dairy milk with almond.
WHERE IS IT?
6 Rue du Forez, 75003
GOOD TO KNOW
Open: Monday-Friday 9am-10pm, Saturday 10am-10pm, Sunday 12pm-6pm
Contact: +33 9 83 82 53 53
.
2. Arpège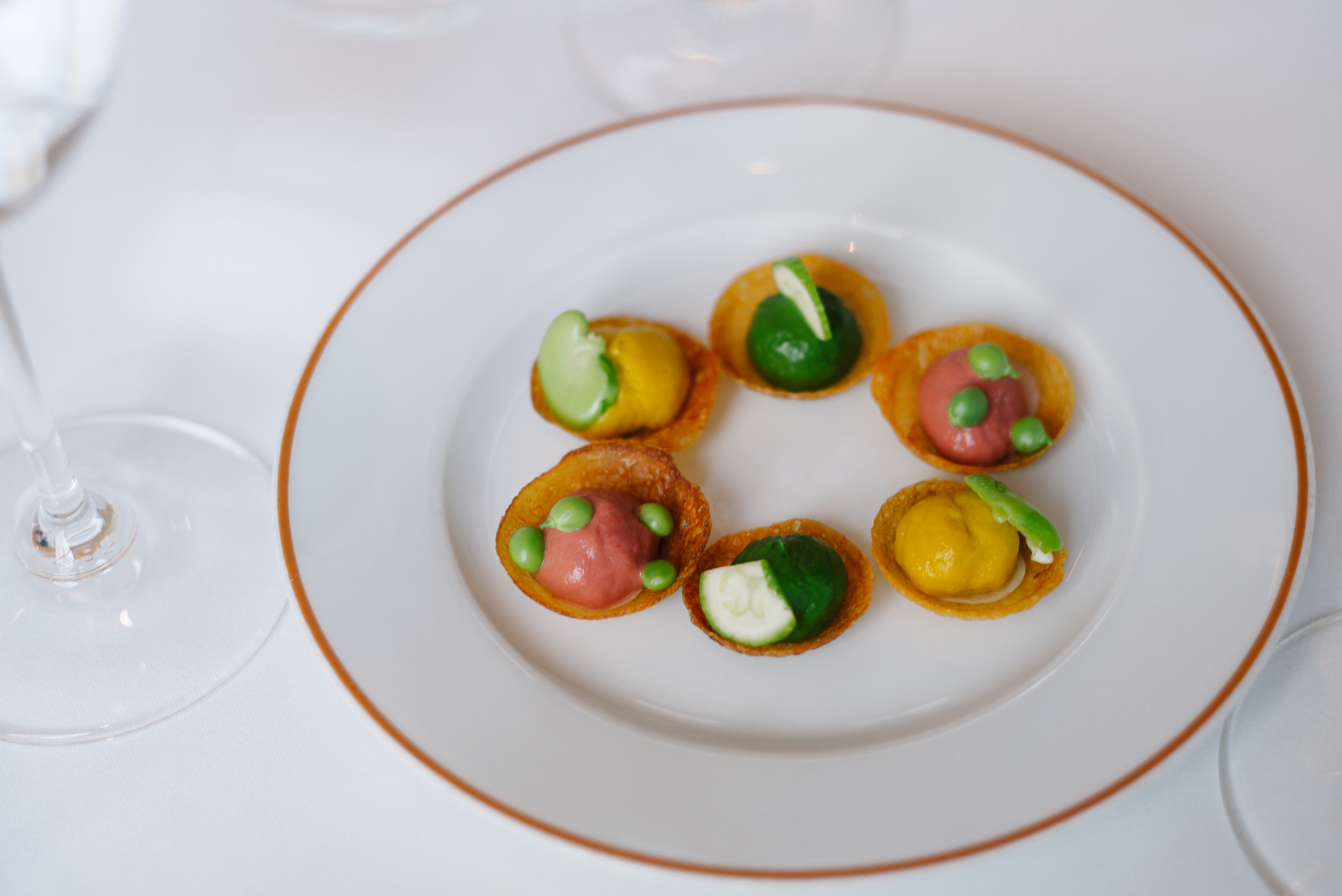 This is company founder/amazing-tour-guide/vegetarian-for-most-of-her-life Karen's pick for her favorite vegetarian restaurant in Paris. So of course I had to include in on this list!
Arpege is a Michelin-starred restaurant run by chef Alain Passard. It originally opened back in 2001 but he decided to close down for a while to rethink the direction he was going in career-wise. When he reopened the restaurant he decided that from then on out he would only cook with vegetables.
The results are mouth-watering (as you might excpect from a Michelin restaurant).
This is the most expensive choice on my list (ALSO as you might expect from a Michelin restaurant)… but I swear it's worth it.
YOU MUST TRY
The 'steak' tartare that is actually made of beetroot, horseradish cream, and carrots! YUM.
WHERE IS IT?
84 Rue de Varenne, 75007
GOOD TO KNOW
Open: Monday-Friday 12pm-2pm, 7pm-10:30pm
Contact: +33 1 47 05 09 06
.
3. L'As du Fallafel
How could I compile a list of the best vegetarian restaurants in Paris without including our beloved L'as du Fallafel?!
If you've been on our Jewish History of Le Marais tour, you've already tasted the delicious food here at L'As. If you haven't… you NEED to.
This place is so well known worldwide that it was featured a New York Times article – that's saying something!
Something we love about grabbing lunch or dinner at this place? It's portable. Located in the heart of the Marais, there's nothing we recommend more than taking your food to go to enjoy on a nice stroll through the charming neighborhood.
YOU MUST TRY
The original fallafel sandwich – of course!
WHERE IS IT?
32 Rue des Rosiers, 75004
GOOD TO KNOW
Open: Sunday-Thursday 11am-11:30pm, Friday 12pm-4pm. Closed on Jewish holidays.
Contact: +33 1 48 87 63 60
.
4. Sol Semilla
This is another restaurant that changes its menu very often. By now you know that means they're cooking up only the freshest, most in-season veggies they can find.
Sol Semilla's specialty? Superfoods.
Now I know you've heard this buzzword floating around the foodie scene for a while… what the heck does it mean, though? Here "superfoods" means pomegranate, açai berry, blueberry, avocado, spirulina, flax seeds…you know the drill!
Mega-bonus: all of their products are 100% bio, gluten free, and made in house.
YOU MUST TRY
The plat du jour (daily special). The freshest option on an already fresh menu? Sold!
WHERE IS IT?
23 Rue des Vinaigriers, 75010
GOOD TO KNOW
Open: Sunday & Tuesday 12pm-6pm, Wednesday-Saturday 12pm-10:45pm
Contact: +33 1 42 01 03 44
.
5. Le Potager de Charlotte
Potager translates to English as vegetable garden… that's a promising sign.
The goal at Charlotte's garden? To make the least possible negative impact on the environment while still serving up some of the best vegan dishes I've ever tasted. Treating your body AND the environment right? What more could you ask for?!
French cooking without butter, cream, or eggs presents a challenge, but the chefs at Le Potager really know their stuff. If you can make something yummy without butter, you've officially earned my respect.
YOU MUST TRY
Once a week, on Sundays, there's a special all-day 'late breakfast' menu. Need we say more?
WHERE IS IT?
12 Rue de la Tour d'Auvergne, 75009
GOOD TO KNOW
Open: Wednesday & Thursday 7pm-10:30pm, Friday & Saturday 12pm-2:30pm, 7pm-10:30pm, Sunday 11am-3pm
Contact: +33 1 44 65 09 63
.
6. Vegan Folie's
Located on the busy Rue Mouffetard (where you'll find us giving our Tickle Your Tastebuds food tour), Vegan Folie's is the hotspot for vegans that like the sweet stuff.
Yup, this place's specialty is desserts! All natural, dairy-free, vegan desserts.
The shop doesn't have much as far as seating goes – but we think that's okay. Located in the historic latin quarter of Paris, there are plenty of sights to take in as you shove that vegan brownie down your throat. Okay…so maybe try to savor it a little bit…but if you can't help yourself we're not judging…
YOU MUST TRY
The nutty brownie!
WHERE IS IT?
53 Rue Mouffetard, 75005
GOOD TO KNOW
Open: Tuesday- Sunday 11am-7pm
Contact: +33 1 43 37 21 89
.
Conclusion
To veggie or not to veggie, that is the question!
Actually, the real question is, will you try out some of my recommendations the next time you're in Paris? Let me know in the comments below!
.